2011 climb expedition Nepal, Sagarmata.
15 feb - 15 march 2011.
Nepal is a nice country. Sagarmata national park is a cool place (hanging out with: Everest, Lothse, Cho Oyo, Thamserku, Ama Dablam). The infrastructure and prices are agreeable. We are a group of climbers of different skill levels that plan to climb here early 2011. Sharing knowledge, passion, gear and permits during a month. We plan to do it in a very basic way, off season, low budget, seeking our own routes, testing our own skill.
We will start with some scrambling peaks in the 5000-5400 range. Maybe a climb peak of around 5800-6400 (share permit). Maybe some unnamed technical peaks of 5500-5800 (this will be the real challenge). And maybe even an expedition peak above 7000 meters. Different parts of our group has different ambitions.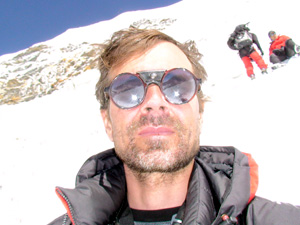 Want to join? Maybe you are an experienced mountaineer or just a happy trekker that want to be part in the support team.
Out of season:
Because Himalaya is the place in the world where you find the real mountains more than 25.000 people crowd this place in the two peak seasons. There is a caravan of trekkers heading for EBC in October and April.
In early march finding lodges, a solitaire meeting with nature and bargains in KTM are easier. The downside is that it will be colder (downjacket temperature).
Low budget:
we want to do it as cheap as possible. We have the local know how-how to do this cheap. Share permits, porters, gear, camps e t c.
Independent:
Climbing a mountain by your own strength, finding your own routes, turning back, trying again, setting your own camps, organizing teams - its a challenge that will make you grow.
Contact: Sebastian @ webvideo.nu